"And She Was Gone"
Season 2, Episode 17
Episode Information
Air date:
June 16, 2002
Written by:
Emily Kapnek
Directed by:
Mark Risley
Episode Chronology
Previous Episode:
Mommie Nearest
Next Episode:
No Hope for Courtney
And She Was Gone is the seventeenth episode (37th overall) of the second season which was broadcast on June 16, 2002.
The Meaning of Life Lesson
"You don't have to be afraid of your feelings. Ever. No matter what they are and no one knows you more better than you know yourself. So don't let people try to convince you that your someone your not, even if they do have PhD."- Lois Foutley. 
Synopsis
Ginger writes a poem called "And She Was Gone" about a girl that wants to disappear for a competition. When Ms. Zorski reads it, she becomes concerned with the strong feelings put into it. She forces Ginger to visit the school psychologist. It was only a matter of time that the student body was convinced she was depressed. Meanwhile, Carl tests his disappearing potion on Noelle Sussman, who he thinks is a nobody. But when Noelle really does disappear, Carl deeply regrets it.
Story
We see an raven's and starts to fly towards to the town that's in gray and goes through the suburban neighborhood and straight to the middle school.
It is night and Ginger is seen writing in her diary in the dark and begins to tell us about her week and during Ginger talking her character is seen walking in the glass reflection and heading towards to the bookstore:
"Now the whole group therapy thing is over, I guess it wasn't that bad, I'm kinda glad I stuck with it. I mean talking about your feelings is preak to way past the time you know. I think the reason my poem struck a nerve was because everyone related to the main character including me, cause maybe us writers do put ourselves on to every page and maybe I didn't write that story for the contest.
Maybe I had something to say but no matter what happens in the competition I already got more out of it then I meant to. Because somehow in writing that poem. I got a chance to know myself a little better to see myself a little more clearly and I kinda like what I saw, so even if I don't get published I guess in someways ... I already felt like I won."
We see the character opening the the door to the shop and disappears and papers of Ginger's poem is seen being published into a book and on the same time we can hear a woman's voice singing "And She was Gone...".
Appearances 
Ginger Foutley 
Carl Foutley 
Courtney Gripling 
Macie Lightfoot 
Hoodsey Bishop 
Dodie Bishop 
Lois Foutley 
Miranda Killgallen 
Brandon Higsby 
Mrs. Gordon 
Ms. Zorski 
Chet Zipper 
Librarian 
Louie
Dr. Leventhal
Noelle Sussman 
Quotes
Dodie: Relax, Ginger. You work well under pressure. Macie: Then don't relax.
Miranda: (talking to Ginger) Man, if I had known you were, like, clinically depressed, I might have gone a little easier on you.
Dr. Leventhal: As heartwrenching as this story is, maybe we could discuss something else like, perhaps, your perpetual need to be the center of attention? Courtney: Hmm? 
Trivia
This episode was nominated for a Primetime Emmy Award for Outstanding Animated Program (Less Than One Hour) in 2003. It ended up losing to The Simpsons. 
Darren is absent in this episode.
Noelle Sussman is introduced as part of the main cast in this episode. In previous episodes, Noelle can be seen occasionally in the background whenever Carl and Hoodsey are in the classroom, in the hallway or outside the school and sometimes during recess. She is voiced by the creator of the series and the writer of this episode, Emily Kapnek. 
Ginger's Character makes a cameo appearance in "A Lesson in Tightropes" 
Videos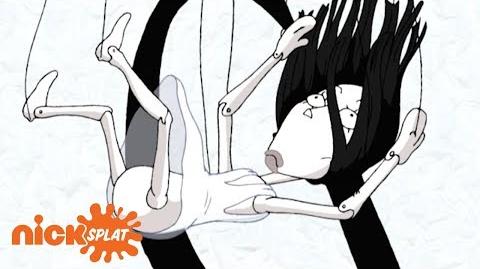 Gallery 
Ad blocker interference detected!
Wikia is a free-to-use site that makes money from advertising. We have a modified experience for viewers using ad blockers

Wikia is not accessible if you've made further modifications. Remove the custom ad blocker rule(s) and the page will load as expected.