Ben Stein (born November 25, 1944 in Washington D.C., Maryland) is an American writer, lawyer, actor and commentator. He is best known for his roles as an economics teacher in Ferris Bueller's Day Off, a Wichita airport representative in Planes, Trains & Automobiles, a public works official in Ghostbusters II, Stanley Willard in Charles in Charge, Mr. Cantwell in The Wonder Years, Sanderson, H.P. and Head Pixie in The Fairly OddParents, Dr. Houston and Rosebud in Earthworm Jim and several others. 
He provides the voice of Buddy Baker.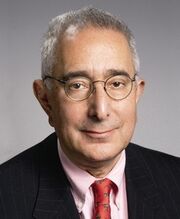 Ad blocker interference detected!
Wikia is a free-to-use site that makes money from advertising. We have a modified experience for viewers using ad blockers

Wikia is not accessible if you've made further modifications. Remove the custom ad blocker rule(s) and the page will load as expected.