Billy Brown is an American actor. He is best known for his roles as Nate Lahey in How to Get Away With Murder, The Vampire King in Adventure Time, August Marks in Sons of Anarchy, Archer Petit in Hostages, a rhino in The Wild Thornberrys Movie, Troy Riley in The Following, Det. Mike Anderson in Dexter, Death Row Reynolds in Lights Out, Carson in Race to Witch Mountain (2009), InGen Worker in The Lost World: Jurassic Park and several others. 
He provides the voice of Darren and Will's father, Mr. Patterson. He provides the voice of a delivery guy in Far From Home, An "Even Steven" Holiday Special and Hello Stranger.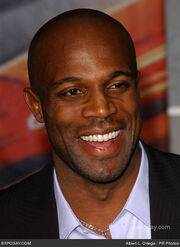 Ad blocker interference detected!
Wikia is a free-to-use site that makes money from advertising. We have a modified experience for viewers using ad blockers

Wikia is not accessible if you've made further modifications. Remove the custom ad blocker rule(s) and the page will load as expected.