Candi Milo (born January 9, 1961 in Palm Springs, California) is an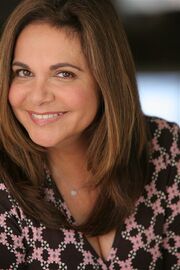 American actress and voice actress. She is best known for her roles as Sweetie, Sweetie Pie and Little Parrot in 
Tiny Toon Adventures, 
the English version of 
Spirited Away, 
Mrs. Wakeman in 
My Life as a Teenage Robot, 
Nick Dean in the 
Jimmy Neutron 
franchise, Dexter in the revival of
Dexter's Laboratory, 
Snap in
ChalkZone, 
Coco, Madame Foster and Cheese in
Foster's Home For Imaginary Friends 
and several others. 
She provides the voice of Courtney and Blake's mother, Claire Gripling. She provides the voice of Giselle in Season of Caprice and a TV announcer in Mommie Nearest.