Dan Castellaneta (born October 29, 1957 in Chicago,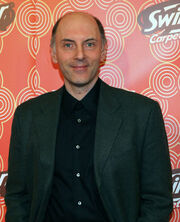 Illinois) is an American actor, voice actor, comedian and screenwriter. He is widely known as the voice of Homer Simpson in 
The Simpsons. 
His other voice roles include Jonathan in 
Rugrats 
and 
All Grown Up, 
Grandpa Phil in 
Hey Arnold!, 
Robot Devil in 
Futurama, 
Mr. Brooks, Guard and Cobra Commando in 
Batman Beyond, 
Dracula in 
Animaniacs, 
Jeffries and Harvey in 
Tiny Toon Adventures 
and several others. 
He provides the voice of Dodie and Hoodsey's father, Dave Bishop in four episodes of the series. This includes About Face, Lunatic Lake, Ten Chairs and Losing Nana Bishop. He provides the voice of Mr. Talbit in Ten Chairs and a jeweler in About Face. He provides the voice of Nicholas "Nikki" LaPorte and a minister in The Wedding Frame.