David Jeremiah (born January 27, 1960) is an American actor and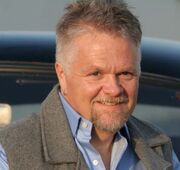 voice actor. He is best known for his roles as himself in 
Best Man in Grass Greek, 
the narrator in 
The True Story of Killing Pablo, 
numerous characters in the 
Star Wars 
video game franchise, Lei Wulong in the 
Street Fighter 
franchise, a caroller, Man's Voice and Emergency Announcer in 
Rugrats, 
a game show announcer in 
That '70s Show, 
Mapmaker Hero and Grandpa in 
Higglytown Heroes 
and several others. 
He provides the voice of Lois' fiancée and later husband, Dr. Dave. He provides the voice of an announcer. He also voiced Coach Guardino in Battle of the Bands and Butterflies Are Free.