Diane Michelle is an American voice actress. She is best known for her roles as Daisy Duck in House of Mouse and other Disney projects, Candace in Batman: The Animated Series, Ket's mother, Ms. Dora and Tombo's friend 2 in Kiki's Delivery Service (English version), Lashina in Superman the animated TV series, Raven Goddess in World of Warcraft: Warlords of Dreanor and several others. 
She provides the voice of Dr. Fondfeelings.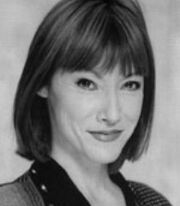 Ad blocker interference detected!
Wikia is a free-to-use site that makes money from advertising. We have a modified experience for viewers using ad blockers

Wikia is not accessible if you've made further modifications. Remove the custom ad blocker rule(s) and the page will load as expected.