Eddie Barth (born in Philadelphia, Pennsylvania. September 29, 1931 - May 28, 2010) was an American actor and voice actor. He is best known for his roles as Nigel and Alan in Babe: Pig in the City, Myron Fowler and Max in Simon & Simon, Angelo in Fame, Richie Kanpinski in Murder, She Wrote, Frank the Pug in Men in Black: The Series, Charlie Howell, Sr. in Civil Wars and several others. 
In his final television roles, he provided the voice of Louie in the episode And She Was Gone. He also provided the voice of Louie and a referee in the episode Detention.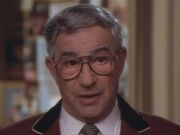 Ad blocker interference detected!
Wikia is a free-to-use site that makes money from advertising. We have a modified experience for viewers using ad blockers

Wikia is not accessible if you've made further modifications. Remove the custom ad blocker rule(s) and the page will load as expected.