Eddie Barth (born in Philadelphia, Pennsylvania. September 29,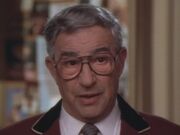 1931 - May 28, 2010) was an American actor and voice actor. He is best known for his roles as Nigel and Alan in 
Babe: Pig in the City, 
Myron Fowler and Max in 
Simon & Simon, 
Angelo in 
Fame, 
Richie Kanpinski in 
Murder, She Wrote, 
Frank the Pug in 
Men in Black: The Series, 
Charlie Howell, Sr. in 
Civil Wars 
and several others. 
In his final television roles, he provided the voice of Louie in the episode And She Was Gone. He also provided the voice of Louie and a referee in the episode Detention.