Emily Kapnek (born March 27, 1972) is an actress, television producer, three time Emmy Award nominated writer and the creator of As Told by Ginger. She is best known for her work in Selfie, Suburgatory, Parks and Recreation, Emily's Reasons Why Not, Splitting Up Together and several others. 
She provides the voice of Noelle Sussman. She is the co-writer and composer of the theme song, along with Jared Faber.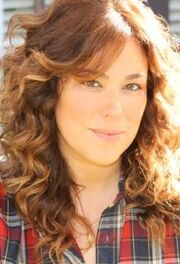 Episodes written
Nickelodeon Magazine interview (December 2000)
External links
Ad blocker interference detected!
Wikia is a free-to-use site that makes money from advertising. We have a modified experience for viewers using ad blockers

Wikia is not accessible if you've made further modifications. Remove the custom ad blocker rule(s) and the page will load as expected.