Grey Griffin (born August 24, 1973 in Fort Ord,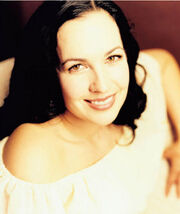 California) is an American voice actress and singer-songwriter. She is best known for her voice work in animated TV shows such as Vicky and Tootie in 
The Fairly OddParents, 
Sam Manson in 
Danny Phantom, 
Mandy in 
The Grim Adventures of Billy and Mandy,
Azula in
Avatar: The Last Airbender, 
Mrs. Gleeful in 
Gravity Falls, 
Frankie Foster in 
Foster's Home For Imaginary Friends 
and several others. 
She provides the voice of Brandon Higsby. She provides the voice of Stacie in Battle of the Bands, Diane in Dodie's Big Break and Kiss Today Goodbye, Lexi Lanoue in Never Can Say Goodbye, Disgruntled Girl in Ginger's Solo, Quiz Bowl Opponent #1 in Next Question, Monique in Stuff'll Kill Ya and Diane Francis in The Wedding Frame. 
External links