Jared Faber is an American musician, composer, producer and multi-instrumentalist. He provided the music in As Told by Ginger. He is best known for being a composer in TV shows and movies such as Clifford's Puppy Days, The Mr. Men Show, a music composer for The Wedding Ringer, a song producer for Teen Titans Go!, Legend of Frosty the Snowman, Catch That Kid, Scooby-Doo And Kiss: Rock and Roll Mystery and several others. He also served as a composer for Emily Kapnek's other three TV series which include Selfie, Suburgatory and Emily's Reasons Why Not.
He served as the co-writer and composer of the theme song, along with Emily Kapnek.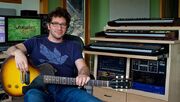 Ad blocker interference detected!
Wikia is a free-to-use site that makes money from advertising. We have a modified experience for viewers using ad blockers

Wikia is not accessible if you've made further modifications. Remove the custom ad blocker rule(s) and the page will load as expected.