Jeffrey Buehl is an American actor. He is best known for his roles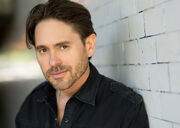 as a dealer in 
Scar City, 
Mugger in 
Beverly Hills 90210, 
Ziggy Sinclair in 
The Definite Maybe, 
Mitch in 
All the Difference, 
Dirt in 
Spent Nation, 
Curt Veal and a hippie in 
Final Rinse, 
a bathroom attendant in 
Exit 13 
and Paul Behlen in the video game 
Santa Fe Mysteries: The Elk Moon Murder. 
He provides the voice of Dwayne Cochran. He provides the voice of Policeman #1 in the episode Season of Caprice.