Jennifer Coolidge (born August 28, 1961 in Boston, Massachusetts) is an American actress and comedian. She is best known for her roles as Stifler's Mom in the American Pie films, Fiona in A Cinderella Story, Paulette in Legally Blonde, Sophie Kachinsky in 2 Broke Girls, Lazy Susan in Gravity Falls, Betty in The Secret Life of the American Teenager, Ms. Lips in Fish Hooks and several others. 
She provides the voice of Nikki LaPorte in The Wedding Frame.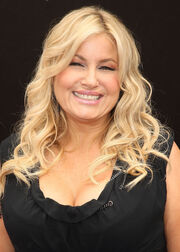 Ad blocker interference detected!
Wikia is a free-to-use site that makes money from advertising. We have a modified experience for viewers using ad blockers

Wikia is not accessible if you've made further modifications. Remove the custom ad blocker rule(s) and the page will load as expected.