Jim Duffy (July 2, 1937 - March 23, 2012) was an American animator and producer. He was a supervising producer for As Told by Ginger. He is best known for his work on Rugrats, Rocket Power, Captain Planet and the Planeteers, G.I. Joe, Jem, All Grown Up!, The Wacky Adventures of Ronald McDonald, Duckman, Aaahh!!! Real Monsters and several others. He passed away at age 74 after a long battle with cancer. 
He directed the pilot episode, The Party.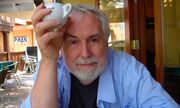 Ad blocker interference detected!
Wikia is a free-to-use site that makes money from advertising. We have a modified experience for viewers using ad blockers

Wikia is not accessible if you've made further modifications. Remove the custom ad blocker rule(s) and the page will load as expected.