Joey Lauren Adams (born January 9, 1968 in Little Rock, Arkansas) is an American actress and director. She is best known for her roles as Mona Mullins in Vinnie & Bobby and Top of the Heap, Layla Maloney in Big Daddy, Simone in Dazed and Confused, Addie in The Break-Up, Alyssa Jones in Chasing Amy, Christina in Coneheads, Debbie Lynn Cooke in Still the King, Tonya in All the Birds Have Flown South and several others. 
She provides the voice of Thea Mipson in the episode Far From Home.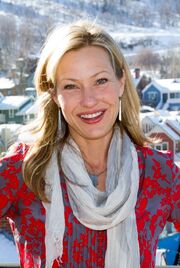 Ad blocker interference detected!
Wikia is a free-to-use site that makes money from advertising. We have a modified experience for viewers using ad blockers

Wikia is not accessible if you've made further modifications. Remove the custom ad blocker rule(s) and the page will load as expected.