John Astin (born March 30, 1930 in Baltimore, Maryland) is an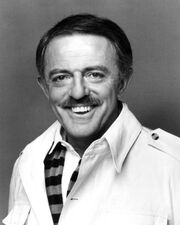 American actor, director and voice actor. He is best known for his roles as Glad Hand in 
West Side Story, 
Gomez Addams in 
The Addams Family, Love, American Style, 
Michael Sawyer and David P. Crothers in 
The Love Boat, 
Harry Pierce, Fritz Randall and Ross Hayley in 
Murder, She Wrote, 
Supt. Skinner and Hank the Janitor in 
Recess, 
The Great Bangaboo in 
The Wild Thornberrys, 
Prof. Albert Wickwire in 
The Adventures of Brisco County Jr., National Lampoon's European Vacation 
and several others. 
He provides the voice of Dodie and Hoodsey's father, Dave Bishop in two episodes of the series. This includes An "Even Steven" Holiday Special and Blizzard Conditions. 
Trivia
He is the adoptive father of actor Sean Astin.