John Kassir (born October 24, 1957 in Baltimore, Maryland) is an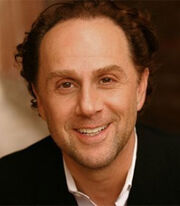 American actor and voice actor. He is best known for his roles as the Crypt Keeper in
Tales from the Cryptkeeper, 
Buster Bunny in
Tiny Toon Adventures, 
a regular performer in
The Amanda Show, 
Cloud Groom and Snow Monster #1 & 2 in
Adventure Time, 
Elliot Vocals in
Pete's Dragon (2016), 
Pete Puma in
The Looney Tunes Show, 
Hammer Brothers in
My Life as a Teenage Robot, 
Dunglap, Mervis and French Kid in
CatDog 
and several others.
He provides the voice of the Gripling's family butler, Winston. He provides the voice of Jake in Fair to Cloudy, Turtle Eater in Far From Home, Announcer in Detention, Man's Voice in April's Fools, Jarhead in Season of Caprice, Weatherman in Blizzard Conditions and a photographer in Kiss and Make-up.