Justin Cowden (born January 8, 1977 in Los Angeles, California) is an American actor, voice actor, writer and producer. He is best known for his roles as Alex in The Jersey, Hector Cruz in Ozzy & Drix, Derek in Danger Rangers, Hayner in the Kingdom Hearts franchise, Guaca in The Emperor's New School, Wherle in The Woodsman and several others. 
He provides the voice of Ginger's former love interest, Orion.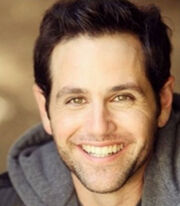 Ad blocker interference detected!
Wikia is a free-to-use site that makes money from advertising. We have a modified experience for viewers using ad blockers

Wikia is not accessible if you've made further modifications. Remove the custom ad blocker rule(s) and the page will load as expected.