Kimberly Brooks (born August 8, 1968 in Los Angeles County, California) is an American actress and voice actress. She is best known for her roles as Jasper in Steven Universe, Princess Allura in Voltron: Legendary Defender, Brownee Point in The Boondocks, Angela Foley in Danny Phantom, Tally in The Wild Thornberrys Movie, Buena Girl in Mucha Lucha, Luna, a member of the Hex Girls in the Scooby-Doo franchise, Jimmy B in Shuriken School and several others.
She provides the voice of Chantal in the episode The Right Stuff. She provides the voice of Cheerleader #1 and #2 in Kiss Today Goodbye.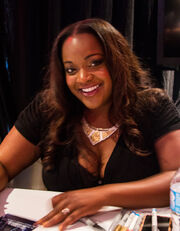 Ad blocker interference detected!
Wikia is a free-to-use site that makes money from advertising. We have a modified experience for viewers using ad blockers

Wikia is not accessible if you've made further modifications. Remove the custom ad blocker rule(s) and the page will load as expected.