Klasky Csupo, Inc is an American multimedia entertainment production company who specializes in animation and graphic design. The company was founded by producer Arlene Klasky, animator Gábor Csupó and their nephew Attila Csupó. Arlene Klasky and Gabor Csupó both served as executive producers for As Told by Ginger. 
The company has produced many animated TV series for Nickelodeon and other networks. This includes 
The Tracey Ullman Show (The Simpsons 
shorts), the first three seasons of 
The Simpsons, Aaahh!!! Real Monsters, Rugrats, Duckman, Santo Bugito, The Wacky Adventures of Ronald McDonald, The Wild Thornberrys, Stressed Eric, Rocket Power, As Told by Ginger, All Grown Up 
and 
Rugrats Pre-School Daze. 
The company is currently producing a web series called "RoboSplaat!" It features the character from the 1998 Klasky Csupo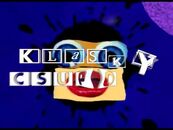 logo. The web series first premiered on December 21, 2016. The company is also working on other projects.
Ad blocker interference detected!
Wikia is a free-to-use site that makes money from advertising. We have a modified experience for viewers using ad blockers

Wikia is not accessible if you've made further modifications. Remove the custom ad blocker rule(s) and the page will load as expected.