Lewis Arquette (born in Chicago, Illinois. December 14, 1935 - February 10, 2001) was an American film actor, writer and producer. He is best known for his roles as Jefferson Davis 'JD' Davis in The Waltons, Wyler in Tango & Cash, Judge Ellsworth in St. Elsewhere, Dr. Watson in Sherlock Hound, Superfly Jimmy Shuka in Rock 'n' Wrestling, Lucas Buchanan in Rocky Road, Rex DeForest III in Camp Candy and several others. 
He provides the voice of Mr. Cilia. The episode Piece of My Heart was dedicated to his memory after he passed away from congestive heart failure.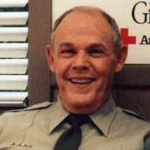 Ad blocker interference detected!
Wikia is a free-to-use site that makes money from advertising. We have a modified experience for viewers using ad blockers

Wikia is not accessible if you've made further modifications. Remove the custom ad blocker rule(s) and the page will load as expected.