Liz Georges (born May 28, 1955 - full name: Elizabeth Jeanne Georges) is an American actress and voice actress. She is best known for her roles as Jason's mother in Mighty Joe Young (1998), Muriel, Sandy Candy and a woman in Aaahh!!! Real Monsters, Female Seal #2 in The Wild Thornberrys, Script Girl in Mr. Saturday Night, Pavlova, Biot and Rogue Boit 2 in Phantom 2040, Dorothy in The Wizard of Oz animated TV series, Maggie Simpson in an episode of The Tracy Ullman Show and several others. 
She provides the voice of Courtney Gripling. She provides the voice of a book club member in the episode Sleep On It.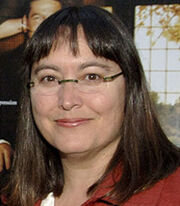 Ad blocker interference detected!
Wikia is a free-to-use site that makes money from advertising. We have a modified experience for viewers using ad blockers

Wikia is not accessible if you've made further modifications. Remove the custom ad blocker rule(s) and the page will load as expected.