Macy Gray (born September 6, 1967 in Canton, Ohio as Natalie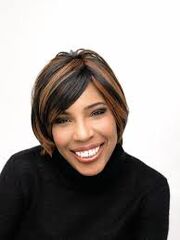 Renee McIntyre) is an American R&B, jazz and soul singer, songwriter and musician. She is best known for her six studio albums and has received five Grammy Award nominations. She has appeared in films such as 
Training Day, Spider-Man, Scary Movie 3, Lackawanna Blues, For Colored Girls 
and 
Idlewild. 
Gray had an international hit called "I Try" from her multi-platinum debut album 
On How Life Is. 
She won a Grammy Award in 2001 for the song "I Try" for Best Female Pop Vocal Performance.
She is the singer of the theme song I'm In Between, which is composed by Jared Faber and Emily Kapnek.