Mark Risley is an American writer, producer and director. He is a director, supervising director and producer for As Told by Ginger. He is best known for his work directing for animated TV series such as The Wild Thornberrys, Yo-kai Watch, The Mr. Men Show, NFL Rush Zone, Father of the Pride, Rugrats and Space Rangers. His writing and producing credits include TV shows such as Yo-kai Watch, The Wild Thornberrys, The Mr. Men Show and several others.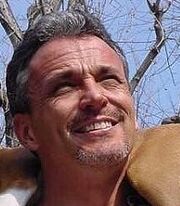 Episodes directed
Ad blocker interference detected!
Wikia is a free-to-use site that makes money from advertising. We have a modified experience for viewers using ad blockers

Wikia is not accessible if you've made further modifications. Remove the custom ad blocker rule(s) and the page will load as expected.