Nora Dunn (born April 29, 1952 in Chicago, Illinois) is an American actress and comedian. She is best known for her roles as a sketch performer in Saturday Night Live, Ally Loman in Bruce Almighty, Shannon in Pineapple Express, Adrianna Cruz in Three Kings, Dr. Marcus in the Entourage TV series and the 2015 film, Teresa in 2 Broke Girls, Louise in New Girl, Janet Smythe in Best Friends Whenever, Norma Lear in Sisters and several others.
She provides the voice of Coach Candace. She provides the voice of Philbert in the episode Dodie's Big Break.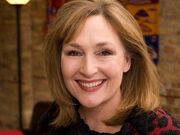 Ad blocker interference detected!
Wikia is a free-to-use site that makes money from advertising. We have a modified experience for viewers using ad blockers

Wikia is not accessible if you've made further modifications. Remove the custom ad blocker rule(s) and the page will load as expected.