Patti Deutsch (born December 16, 1945 in Pittsburgh, Pennsylvania) is an American actress and voice actress. She is best known for her roles as a panelist in Match Game 73, a waitress in The Emperor's New Groove, additional voices in Monsters, Inc., Tantor's mother in Tarzan, Trixie in Capitol Critters, Patti in Grandpa Goes to Washington, Deli Girl in Mr. Mom, a regular perfomer in Rowan and Martin's Laugh-In and several others.
She provides the voice of Dr. Dave's mother, Mrs. Dave.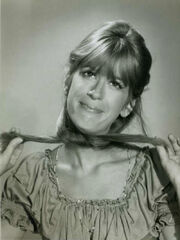 Ad blocker interference detected!
Wikia is a free-to-use site that makes money from advertising. We have a modified experience for viewers using ad blockers

Wikia is not accessible if you've made further modifications. Remove the custom ad blocker rule(s) and the page will load as expected.