Sandy Fox (born July 13, 1963 in Monroeville, Pennsylvania) is an American voice actress, singer and dancer. She is best known for her voice work in Cowboy Bebop, My Life as a Teenage Robot, Hi Hi Puffy AmiYumi, Bleach, Naruto Shippuden, Salior Moon R: The Movie, Toonsylvania, Maleficent, Akira, Mobile Suit Gundam F91 and several others.
She provides the voice of Melissa "Mipsy" Mipson.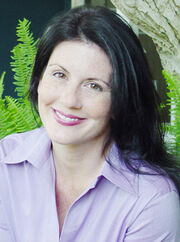 Ad blocker interference detected!
Wikia is a free-to-use site that makes money from advertising. We have a modified experience for viewers using ad blockers

Wikia is not accessible if you've made further modifications. Remove the custom ad blocker rule(s) and the page will load as expected.