Shannon Conley is an American actress, voice actress and vocalist.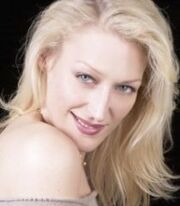 She is the lead vocalist in the all-female tribute band, Lez Zeppelin. She is best known for her roles as Meruru Sheckle in 
Magic Woman M, 
additional voices in 
Grave of the Fireflies, 
Female Creator, Yoriki and Medusa in 
Maze, 
Komo in 
Shine of the Morning Mist, 
Vivian, Pokémon Hunter J and Wilma in the English version of the 
Pokémon 
anime series, Reiko in the English version of 
Bride of Darkness, 
Jennifer Collins in 
Masquerade 
and several others. 
She is the singer of the song Courtney's World as well as the singer of the Little Seal Girl song. Both songs were performed in the episode Come Back Little Seal Girl. She provides the voice of the Teen Seal Singer in Next Question and a rock chick in The Wedding Frame.