The Wedding Frame (DVD) is an As Told by Ginger direct to DVD released on November 23, 2004 by Paramount Home Entertainment (PHMD) and Nickelodeon.
Episodes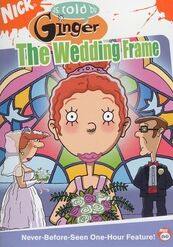 Bonus feature
Nick Cookbook Recipes (DVD ROM feature) 
Cast
Guest voices
Christopher John Fields - Dr. Ron
Phil Reeves - Anesthesiologist Al
Valerie Harper - Maryellen, Librarian
Ping Wu - Archie Chang
Gregory Jbara - Delivery Man
Billie Worley - Camera Guy
Estelle Harris - Myrna
Jeannie Elias - Rebecca
Laraine Newman - Jean-Pierre, Terrence
Kyle Brent Gibson - Cool Kid
Eric Jungmann - Chairlift Operator
Laraine Newman - Terrence
Adam Wylie - Ian Richton
Lewis Arquette - Mr. Cilia
Terri Apple - Film Narrator
Craig Strong - Harley James
Jackie Harris - Vampire Chick
Tress MacNeille - Server
Sandy Fox - Mipsy Mipson
Ad blocker interference detected!
Wikia is a free-to-use site that makes money from advertising. We have a modified experience for viewers using ad blockers

Wikia is not accessible if you've made further modifications. Remove the custom ad blocker rule(s) and the page will load as expected.