Lane Toran Caudell (born October 15, 1982 in Los Angeles,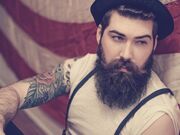 California) is an American actor, voice actor and musician. He is best known for his roles as the title character in 
Hey Arnold! 
then Wolfgang and Jacques, King Bob in 
Recess, 
Tripod in 
101 Dalmatians: The Series, 
Rod in 
7th Heaven, 
Twain in 
RePlay, 
Merv in 
Getaway Girls 
and several others. 
He provides the voice of Fred in Far From Home and Wicked Game.