Tress MacNeille (born June 20, 1951 in Chicago, Illinois) is an American voice actress and former DJ. She is best known for her voice work in animated TV series such as The Simpsons, Dot Warner, Hello Nurse and Marita Hippo in Animaniacs, Hama and Yangchen in Avatar: The Last Airbender, Grandma Gertie in Hey Arnold!, Futurama, Tiny Toon Adventures, Charlotte Pickles in Rugrats and All Grown Up and several others. 
She provides the voice of Robert Joseph "Hoodsey" Bishop. She provides the voice of Clover in the episode Ginger's Solo.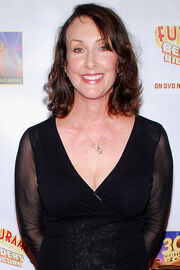 Ad blocker interference detected!
Wikia is a free-to-use site that makes money from advertising. We have a modified experience for viewers using ad blockers

Wikia is not accessible if you've made further modifications. Remove the custom ad blocker rule(s) and the page will load as expected.